A Safety Platform Built For Women, Everywhere
Launched as a response to a crime, GuardOn exists to make women safer when you go to the grocery store to when you travel abroad and reduce your worries about leaving your loved ones alone.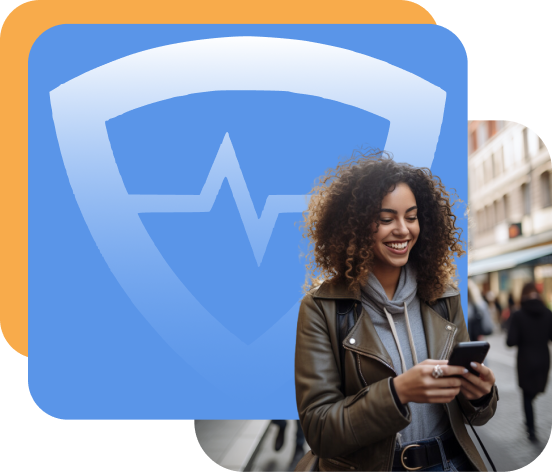 What We Built
All-In-One Safety Platform
We believe that through collaborations, partnerships and relationships with law enforcement and other emergency services, businesses, NGOs and members of the community, GuardOn gets help quickly when you need it.
Privacy first
We take pride in our commitment to upholding the standard for data privacy and ethical practices. In keeping our responsibility, we strive to be leaders in safeguarding user information and maintaining the highest ethical standards.
Start your free membership today
Get started by connected and sharing alerts with your most trusted contacts
Our Story
It started with a vision to protect women
When Brindala Mallappa learned about the heinous crime committed against a young girl in India, later known as Nirbhaya, she was deeply moved. As a woman, a mother, a sister, a daughter, and an executive responsible for employing numerous women, Brindala felt a strong sense of anger and concern. She was determined to develop a comprehensive technology solution and emergency response ecosystem to prevent crimes against women, children, and the elderly. Read more about this story here.
Out of this moment, GuardOn was created. An all-in-one safety solution that connects women to a network of people and services that can go beyond local 911.
Our values
What makes us different
GuardOn stands out from the rest with its unique global safety coverage, offering protection wherever you go. With an extra layer of support and a range of innovative features, GuardOn ensures you're never alone in emergencies. What sets it apart is its affordability, making safety accessible to all.
Affordable
Don't Let Money Stand in the Way of Safety
Affordability for All: It should be accessible to the financially disadvantaged for free, while maintaining extremely low costs for others.
Layers of Support
Add Extra Layers of Support
The solution had to go beyond notifying the authorities and also be effective in areas where immediate assistance might not be readily available.
Anywhere
Get Support Where You Are
Function across all cities, rural areas, and even while traveling internationally. Enable multiple local languages to benefit, too.
Our Timeline
2011

GuardOn originated in the aftermath of a heinous crime committed on a young Indian girl, named Nirbhaya.

2018

GuardOn launches in India, reaches 30,000 users in the first 2 months. GuardOn hits 9,000 alerts in as many months

2020

GuardOn launches in US. Perfect timing, we know. Thanks pandemic! So we decide to reset and retool.

2023

GuardOn relaunches in the US with updated features, an expanded 24/7 monitoring service and partner
Hear from Brindala Mallappa
Brindalla Mallappa, a captivating guest on the "How I Broke This" podcast, shares her inspiring story of overcoming obstacles and challenges. In this insightful interview, she discusses her journey towards success, offering valuable lessons and motivation to listeners.
Use Cases
With Safety Comes Freedom to Live Your Life
Powerful, self-serve product and growth analytics to help you convert, engage, and retain more users. Trusted by over 4,000 startups.
Freedom for Women
Empowerment and freedom converge for women through a safety and medical alert app. This game-changing app acts as a shield, instilling confidence and security. Women no longer need to live in fear, as a single tap connects them to emergency services in an instant. With discreet features, trusted contacts are alerted, forming a supportive network. Embrace this app and witness women reclaim their independence, fearlessly pursuing their aspirations. True freedom awaits, just a touch away.
Freedom for Travelers
GuardOn is the ultimate companion, providing peace of mind wherever you roam. A single tap connects you to immediate assistance, ensuring safety no matter the destination. Explore new horizons, immerse yourself in cultures, and chase adventure without hesitation. With this app by your side, wanderlust knows no bounds. Travel fearlessly, knowing help is just a touch away.
Freedom for Seniors
A safety app with our advanced features ensures independence while providing a lifeline in emergencies. With a simple touch, help is within reach, whether at home or on the go. Alongside immediate response, the app offers seamless communication with medical professionals and caregivers. Seniors can pursue their passions, explore new hobbies, and engage socially, all with the reassurance of readily available assistance. Embrace this technology and empower seniors to live confidently and to the fullest
Start your free membership today
Get started by connected and sharing alerts with your most trusted contacts